Dresses can make you popular and completely change people's opinion about you. Choose your dress properly because it may have an effect the rest of your life. Just the way the following famous dresses that affected the lives of the celebrities wearing them. Today we'll be discussing top 10 such dresses that went on to make history and consequently has its own legacy.
Check out these famous dresses of all time:
10. Celion Dion's Back Tux
At the 1999 Oscars, Dion wore the backward white John Galliano tuxedo that drew both criticism and awe. As per the singer, the dress was quite ahead of her time and is considered as one of the iconic top dresses of all time. "When I wore that look, yes it was at the Oscars, and when I wore that, everyone was wearing dresses, not pants. I was the only one with pants.." she recalls in an interview.
9. Union Jack dress
Geri Halliwell from the Spice Girls wore the dress at the BRIT Awards 1997. As the name suggests, the dress looked like the Union Jack with a lot of white spaces in the front that represents peace. She performed wearing the dress, and it became one of the most iconic moments in pop culture. The Union Jack dress also become synonymous with Spice Girls. The dress was later auctioned and hailed as the most expensive piece of pop star clothing.
8. Green Versace dress of Jennifer Lopez
Jennifer Lopez wore the dress at the 2000 Grammy Awards, and today it's considered one of the most high profile dresses of all time. Designed by Donatella Versace, the dress at the time had a market value of $15,000.  The fabric and its sheer exotic appeal have made it what it is today. Consequently, it made Jennifer Lopez, "one of the most glamorous and publicity-friendly icons of the red carpet."
7. Wedding dress of Lady Diana Spencer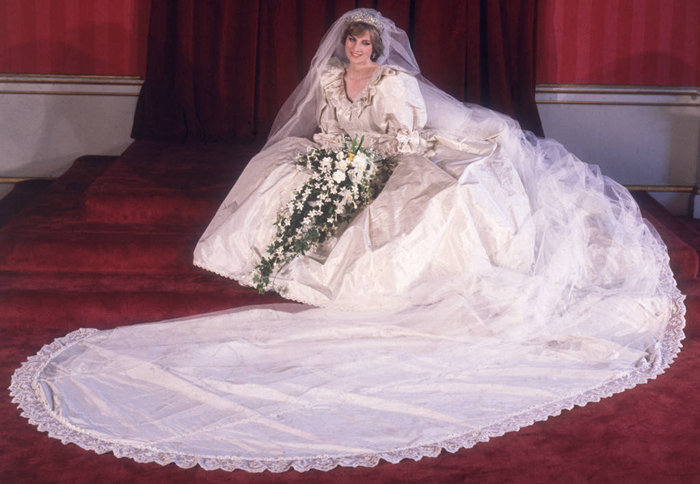 Worn by Princess Diana during her wedding with Prince Charles, is wedding dress is one of the most famous dresses of all time. Valued at £9000, the dress is made of ivory silk taffeta and antique lace gown. As per the designers – David and Elizabeth Emanuel – Diana loved the gown. As a result of the popularity of the dress, at one point of time, it was toured and exhibition.
6. Wedding dress of Kate Middleton
That's the wedding dress that the now, Dutchess of Cambridge wore during their wedding to Prince William. The dress was critically praised and has a widespread influence in on bridal dresses globally. The dress was designed by the Sarah Burton, and later the dress went on to be toured and exhibitioned. Middleton's dress weaves a combination of modernity and traditional values.

Click On