Clowns are an enigma. They are supposed to be funny and yet in their extreme behaviors, they come across as scary sometimes, especially to kids. The terror has been solidified as a result of a number of films released over the years. In this, we are going to rank 10 scary clown movies, based on their scare factor. If you fancy, you can watch any of these films, but do it at your own risk.
Here are 10 scary clown movies:
10. Killer Klowns from Outer Space (1988)
As you can perhaps understand by the name, it's a comedy sci-fi horror film starring Grant Cramer, John Allen Nelson, Suzanne Snyder, and John Vernon. Written, directed and produced by the Chiodo Brothers, the film is about alien clowns who lands on Earth to capture and kill. It's worth noting that the Killer Klowns from Outer Space is the Chiodo Brother's only work that they wrote and directed.
9. Clownhouse (1989)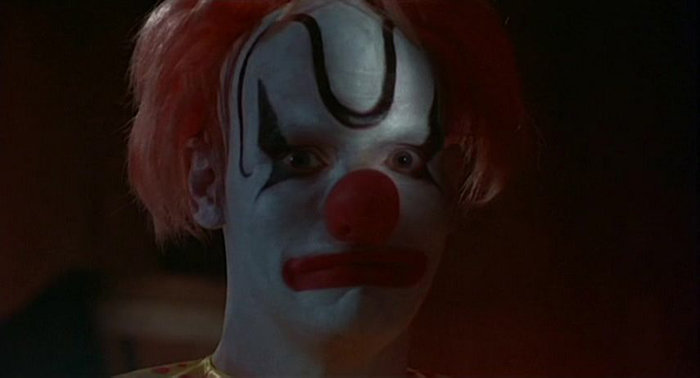 A slasher horror film, Clownhouse is where Sam Rockwell made his debut. Directed by Victor Salve, also stars Brian McHugh and Nathan Forrest Winters. The story revolves around three brothers who were returning home one night when they were attacked by three escaped mental patients. They had disguised themselves as clowns. The film is one of the most scary clown movies ever. Making of Clownhouse was aided by Academy Award-winning director Francis Ford Coppola who gave Salve $250,000.
8. Blood Harvest (1987)
One of the few slasher films in our list, Blood Harvest isn't the greatest horror film, but it is one of the most scary clown movies ever made. The film stars Tiny Tim, Itonia Salchek, Dean West, Lori Minnetti, Peter Krause. It's the only film where Tiny Tim and Peter Krause have worked together. Written and directed by Bill Rebane, Blood Harvest offers a lot of graphic horror and nudity, as a result, we'd ask to be cautious.
7. Amusement (2008)
Directed by John Simpson, it's an anthology horror film. The theatrical release of the film was delayed a number of times, and the film was also eventually released in direct-to-video. Katheryn Winnick, Laura Breckenridge, and Jessica Lucas are in the central role, and they are shown in the separate narrative until at one point the narrative intertwines with each other. Consequently, the Amusement is a pretty good watch.
6. It (1990)
Not exactly a film but a miniseries TV shows with 2 episodes (it may as well be a film). Adapted by Lawrence D. Cohen for onscreen, It is a supernatural horror, directed by Tommy Lee Wallace. The clown, or Pennywise, the Dancing Clown, was played by Tim Curry, and it had a host of an ensemble cast. Aired on ABC, the premiere episode drew 30 million viewers, and the show went on to win the Primetime Emmy Award for Outstanding Achievement in Music Composition for a Miniseries or a Special (Dramatic Underscore). It's one of the best scary clown movies ever.

Click On